Hi everybody,
I've said it before and I'll say it again, I love YA, particularly fantasy. Although I can't say it's been a lifelong love, somewhere along the line I started finding a crop of great YA with interesting characters, plots, and delicious detail. Today I'll be presenting the books I'm most looking forward to coming out in the next year. If you're a fan, you might find a surprising new book to add to your reading list. And if you are familiar with some of these picks, then we're both excited (and I'd love you for to tell me all about it in the comments!)
Now, onto the countdown!
I put this one here at number 5 because it just seemed to have a lot of the elements I love — historic periods, romance, and Christmas (hello!) Now that's a lethal combination. Set in 1817, the plot revolves around a maid and valet who find a little Christmas connection at Shackleford Park in the midst of a surprising counterfeiting scheme. Doesn't it make you want to say — Aww?
It comes out October 9th 2018. Just in time for the holidays!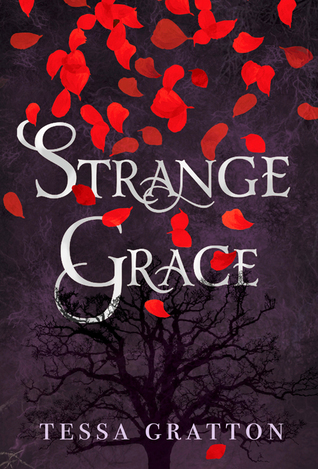 Just because I'm not familiar with an author's work doesn't mean their newest book can't be one of my top picks. Case in point Strange Grace. Anytime the devil may have a good side, I'm always intrigued. This story centers on three friends, one of which is a witch, and an ancient deal. At the rising of the Slaughter Moon, a young man must be sacrificed in order to maintain peace in the village. Who will be sacrificed? And how will these three friends cope when they come face to face with the devil himself?
We'll find out September 18th, 2018.
3. Stain
Author of one of my favorite YA series ever, Splintered,  A.G. Howard retells another classic tale, this time The Princess and the Pea. A voiceless princess must bridge the worlds of daylight and night by proving her heritage and saving the prince. We've all heard the princess-that's-not-a-typical-princess line before, but in Howard's capable hands, this could be something worthy of its title.
Unfortunately, it doesn't come out until January 15th, 2019. Darn!
2. Legendary
Caraval was my favorite book of 2017 so you know I was coming back for seconds. And this one sounds Legend. . wait for it. . . .Dary! Stephanie Garber crafted a blissful, dark, world in Caraval, with magic and deceit around ever corner. Now, Tella, Scarlett's sister, who made a deal in the previous book with Legend,  the master of Caraval, must fulfill her obligation by discovering his true name or lose everything in the process. Hopefully, it will be as lavish and spectacular as its predecessor.
Releases May 29th. Ooh, that's soon!
1. Lie 
Just found out the plot of this one a few days ago, and it soared right to the top of my list. In my 4 Underrated YA Fantasy Novels post, I listed Trick as my favorite underrated novel. This is the third in a series of books called Foolish Kingdoms, revolving around the kingdoms of the four seasons, each with a unique love story at its helm.
Here's a link to the post for a description of this third book, Lie, from the author herself. Boiling it down, it centers on a female liar and and the knight who sees right through her. Oh, and did I tell you it's inspired by Pinocchio? With another great romance to delve into, this is sure to be another excellent entry into the series.
It comes out Fall 2018 (fitting since the story takes place in the Kingdom of Autumn.)
What do you think? What are your most anticipated YA novels? Tell me in the comments.
Until next time, adieu!